Overall, 2022 has been a breakthrough year for Vision Marine. Throughout the year, Vision Marine has expanded its partnerships with battery manufactures Octillion Power Systems and Neogy, recent collaboration with boating industry giant, Groupe Beneteau, to develop and bring to market our proprietary powertrain system, and achieve the world record for the fastest fully electric boat, Vision 32 , in July 2022 with a top speed of 109 mph at the Lake of the Ozarks Shootout. This year also saw rigorous testing and validation of the powertrain system on pontoons, center consoles and bowriders, which blew past expectations and is still providing the most powerful electric outboard motor available today. As 2022 winds down, investors are already looking to 2023 and the potential opportunities that await. 2023 is shaping up to be a big year for Vision Marine. After laying a strong foundation in 2022, the company can now focus on expanding focus on sales of the fully-electric E-Motion™ 180E powertrain and motor systems to OEMs, further developing its product line of electric boat models, and its revenue-generating boat rental business. Vision Marine will continue to build on our mission to bring tangible and sustainable solutions to reducing pollution from gas & diesel outboard motors and carbon emissions in marine environments across the world.
Key Achievements in 2022:
Vision Marine Smashes the World Record for World's Fastest Electric Boat and Achieves Top Speed of 109 MPH at the Iconic Lake of the Ozarks Shootout.
Vision Marine Technologies Completes Production Contract for Marine Batteries with Neogy – The production contract provides for initial purchase of 240 of Neogy's customized batteries, which have been designed to the specifications of Vision Marine.
Vision Marine Technologies Partners with Nextfour Solutions Ltd to Develop a Customized Smart Navigation System – Integrates all boating and navigation functions into one sharp and bright touchscreen display
Groupe Beneteau launches a partnership with Vision Marine Technologies to develop and market 100% electric outboard-equipped boats.
Vision Marine's E-Motion™ 180E Electric Propulsion System to be Rolled Out Across Groupe Beneteau Brand Portfolio Per Strategic Master Supplier Agreement.
Vision Marine Technologies Receives Initial E-Motion™ 180E Propulsion System Purchase Order from Groupe Beneteau – received an initial purchase order of 25 E-Motion™ 180E outboard and powertrain systems. Continuous Purchase Orders to be updated monthly on a rolling quarterly basis.
Reducing Marine Carbon Emissions:
Vision Marine has successfully integrated the E-Motion™ Technology across the most popular recreational boating platforms and thus have exceeded expectations from the boat manufacturers.
Partnering with the leading manufacturers in the marine industry
Vision Marine has partnered with numerous leading boat manufacturers to expand the electric transition of fully-electric powertrains and motors to the consumer in the marine industry.
Vision Marine has received an initial purchase order for 25 E-Motion™ 180E powertrain systems. This commitment from Beneteau commenced by entering into a formal Supplier Agreement announced on December 13, 2022. With this initial purchase order, Beneteau will provide an eco-responsible alternative propulsion solution to its consumers.
The Four Winns H2e Bowrider, the first purpose-built electric runabout, will be produced and available to consumers in 2023 to enjoy a new electric zero-emission boating experience.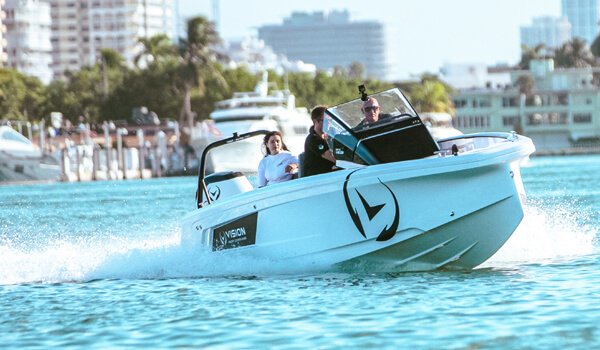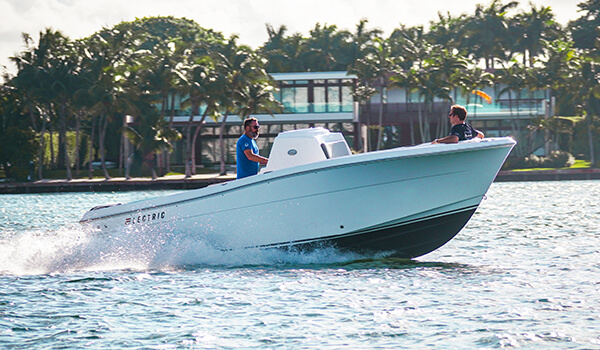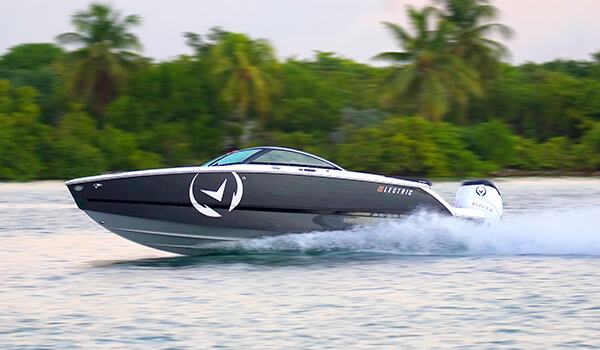 Manufacturing more efficient electric boats
Vision Marine is continuing to manufacture more efficient low-powered electric boats and is making strides in streamlining production for its increasing demand for consumers as well as its rental centers across North America.
Expanding Electric Boat Rental Operations
Vision Marine Technologies Wins 2022 Tripadvisor Travelers' Choice Award for Vision Electric Boat Rentals.
Vision Electric Boat Rental ("EBR") currently ranks among the top 10% of listings on Tripadvisor. EBR's business has grown rapidly through the recent COVID pandemic, increasing its fleet by 25% and consistently providing high-quality boats and positive customer experiences.
In addition, Vision Marine's electric boat rental operations are expanding into a new development called Waves at Dania Beach, Florida, and along the California coast into Portside Ventura Harbor, Southern California.

These rental operations will provide an unique experience that allows the everyday user to cruise the waterways, with our eco-friendly fully-electric boats. In turn directly contributing to zero pollution, zero emission and a noiseless environment.
Bringing Education and Awareness of the E-Motion™ Electric Powertrain system
Vision Marine was present worldwide, introducing the revolutionary E-Motion™ powertrain to major boating and technology events across the world. IBEX Tampa (US), Hybrid Show Houston (US), METS Trade Amsterdam, Miami International Boat Show (US), Fort Lauderdale International Boat Show (US), Paris Boat Show (FRA)
E-Motion™ Technology Propelled the Fastest Fully-Electric Boat in the World
Vision Marine has been displaying the capabilities of our E-Motion™ powertrain technology to boating enthusiasts globally.
At the Iconic Lake of the Ozarks Shootout in Missouri, the V32 shattered the speed barrier on a fully-electric watercraft powered by our E-Motion™powertrain and achieved a top speed of 109 MPH.
Innovation and Further Development
Going into the new year, 2023, Vision Marine is providing a better solution for our environment by removing carbon emissions and gas-powered motors and providing exciting new boating experiences to a larger consumer in the marine industry.
Vision Marine's management and the outstanding team will continue to add talented individuals to build upon our mission and success in being a major factor in helping reduce the environmental impact of gas & diesel engines with our fully-electric propulsion solutions to boaters around the world.
From all of us at Vision Marine Technologies, we wish you and your loved ones a wonderful holiday season. We look forward to the new year and wish you health, happiness and prosperity in 2023!
Four Winns H2e Electric Bowrider Introduction​
More recent mentions of Vision Marine Technologies Partnership with Four Winns
STAY UP TO DATE WITH THE LATEST NEWS ON VMAR
Leader in Electric Marine Technology
LEARN ABOUT VISION MARINE TECHNOLOGIES